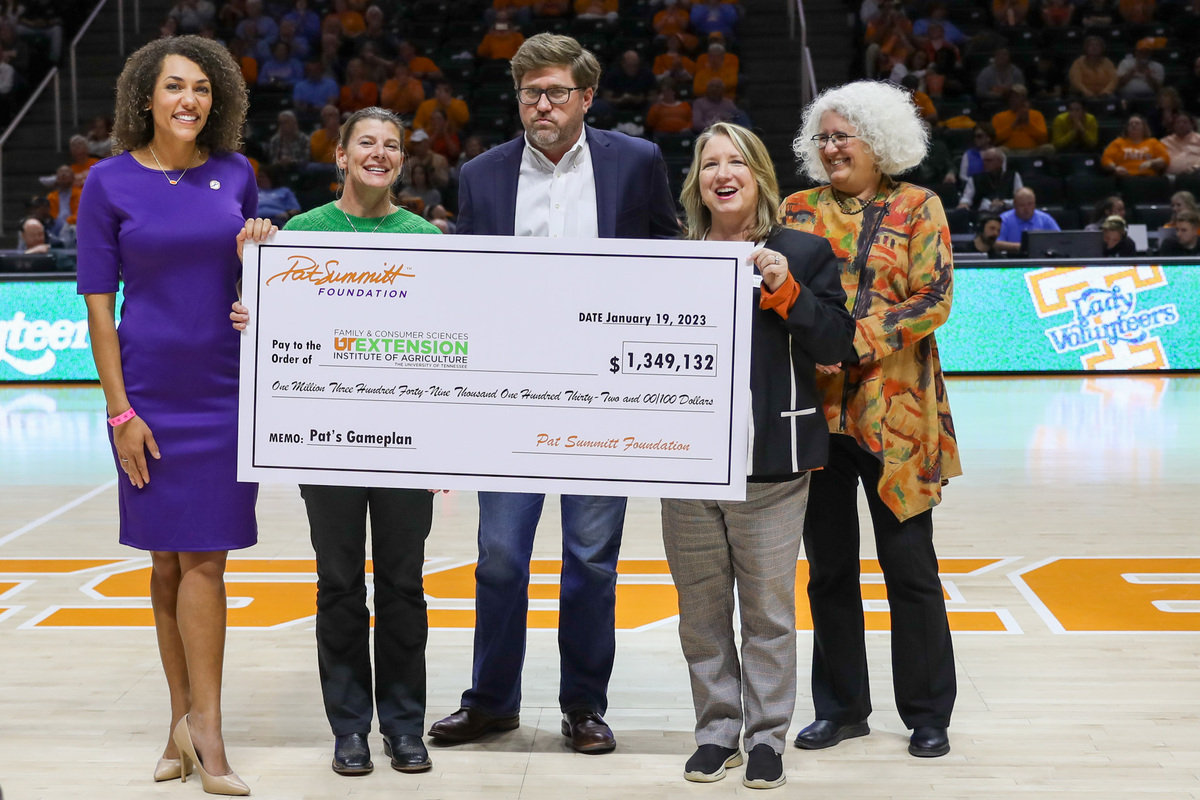 The Pat Summitt Foundation, a fund of the East Tennessee Foundation, has awarded $1.3 million to UT Extension Family and Consumer Sciences to develop Pat's Game Plan, a guide for Alzheimer's and dementia caregivers. The gift will fund the development of a caregiver training program.
The Pat Summitt Foundation was established by Pat and Tyler Summitt in November 2011 with the mission of advancing Alzheimer's and dementia research for treatment and a cure, providing care and support for patients and caregivers, and educating the public on Alzheimer's disease. In the United States in 2021, family members and friends provided more than $271 billion in unpaid care to people living with Alzheimer's and other dementias (source Family Caregivers Online). In Physical and Mental Health Aspects of Family Caregiving, researchers found that:
Caregiving often results in chronic stress, which compromises the caregiver's physical and psychological health.
Depression is one of the common negative effects of caregiving.
Caring for a person with dementia is particularly challenging, causing more severe negative health effects than other types of caregiving.
Janet Fox, assistant dean of UT Extension Family and Consumer Sciences, is the lead principal investigator on this project, while Barbara Metzger, Extension specialist in consumer economics, and Ann Berry, professor family and consumer sciences, will serve as co-principal investigators. Metzger is the project director and coordinator, a role that is very important to her. "This is a subject that is very close to my heart. My mom had Alzheimer's. Even when a person is in a memory care unit, family caregiving is still very much a thing. My oldest sister took on the brunt of the caregiving and her health suffered as a result. Caregivers aren't just those who care for a person on a daily basis. I'm hoping Pat's Game Plan for Caregivers will hold answers for all those who are caregivers." Barbara coordinated the details of the contract after the initial proposal was sent, and the entire team made sure the contract continued to move forward until it was finally signed.
The official program name is Pat's Game Plan for Caregivers: A Guide for Alzheimer's and Dementia Caregivers. The finished project will be a website where caregivers can find information about caring for patients with dementia and caring for themselves. The site will include personal story videos, expert advice and support, and peer-to-peer communication opportunities that will provide education, resources, and 24-7 support for caregiving. The project team hopes to be a "one-stop shop" for caregivers. They envision a place where caregivers can find the practical information they need on Alzheimer's and dementia care, legal and financial planning, patient safety and nutrition, and most importantly coping with emotions and caring for themselves. Podcasts, webinars, and expert support will be provided to caregivers to encourage a two-way synchronous channel for dialogue.
The project is a five-year grant during which time the team will be consistently and continually building the program with more in-depth topics based on caregiver needs. In the coming years, they plan to hold statewide and national conferences that will create awareness, generate interest, and provide support for Alzheimer's and dementia education. The conferences will include family caregivers, professional caregivers, Extension professionals, and experts in the field. It will address caregivers' critical needs through the creation of a dynamic dialogue among experts and caregivers. Pat's Game Plan for Caregivers is currently in development and will launch for public use in 2024. To learn more about the Pat Summitt Foundation, please visit patsummitt.org.